Inject Some Funky 60s Flair into Your Sorority Shirt Creations!
The iconic design elements of the Sixties are back in vogue! From smiley faces to flower power and psychedelic fonts, these fun and vibrant styles are experiencing a resurgence. Even big-name brands like Nike, Pepsi, and Gucci have incorporated retro designs into their advertising campaigns, rejuvenating classic trends, and products to great success [1].This throwback trend is also becoming a go-to theme for various sorority events, like Bid Day, Mixers, and Formals. To help you give your next shirt design that funky retro feel, here are five exciting ways to infuse your designs with nostalgia:
Psychedelic Throwback
The 1960s was a melting pot of social movements and cultural shifts that left a lasting mark on graphic design. It was an era where self-expression reigned, reflected through the bold avenues of music, fashion, and art. Font choices underwent a dramatic transformation, evolving from mundane to extravagant, mirroring the desire to make a statement that was as loud as the times themselves.
Add a smile to your design.
Ready to start a smiley revolution among your sisters? Look no further than the iconic smiley face for your shirt design. The journey of this symbol is a story worth sharing. Initially conceived as part of an internal PR campaign for an insurance company, it swiftly transformed into one of the most enduring and beloved icons of the sixties.
Add a Punch with Pop Art
Step back into the 1960s, where Pop Art revolutionized the art scene by celebrating the everyday. Focused on popular culture elements like comic books and commercial products, this movement exploded with bright and bold colors.  Andy Warhol's mid-sixties masterpieces defined the era, and Pop Art's legacy still resonates today, proving that its bold and colorful spirit remains forever relevant.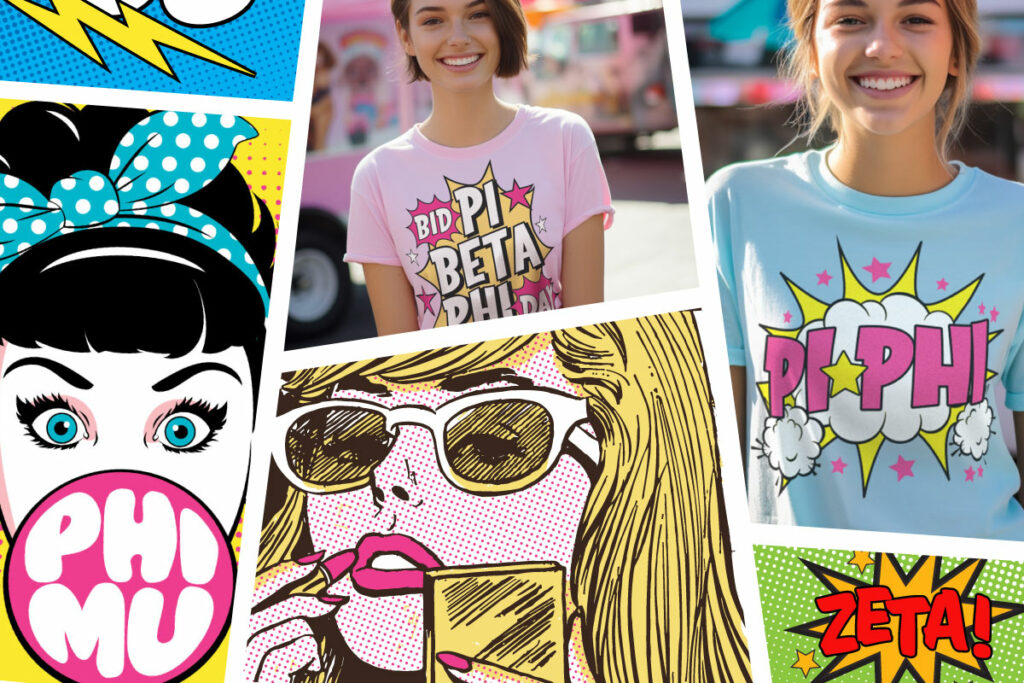 Rock Concert Shirts
The 60s experienced a music revolution, with bands like the Rolling Stones, Pink Floyd and the Beatles leading the charge. Now, take a page from their playlist and turn your sorority shirt into a vintage rock concert masterpiece. It's more than just a look; it's a homage to the musical icons that shaped an era of groove and rebellion.
Vintage Cartoon Look
In the rebellious 1960s, underground comic books found a widespread audience, captivating with their ironic twist. Interestingly, these cartoons' style itself was a nod to vintage aesthetics, drawing inspiration from the early animation of the 1930s. Elevate your sorority shirt game by infusing it with the playful charm of vintage cartoons. It's not just fashion; it's a retro journey through the vibrant world of comics!
[1] https://elements.envato.com/learn/retro-graphic-design-trends