Are you planning an event for your sorority or fraternity and need custom Greek apparel? There are a few ways you can go about ordering the perfect themed shirt for your chapter, but if you don't know where to start, it can get overwhelming.
Here are three simple ways you can get customized apparel for your Greek organization and become the superhero of your chapter!

Option 1: Customize an Existing Design for Your Greek Chapter
The easiest way to get a high-quality custom shirt quickly is by selecting a pre-existing design and tailoring it to your organization. Already know what kind of event you're hosting? You can search for apparel designs that are specific to your theme on Metro Greek.
Here are some of the most popular design themes that are available:
You can also browse designs by specific themes, like beach, summer, sports and more! Every design from Metro Greek can be fully customized for any Greek organization.
Option 2: Upload Your Own Art Design
Feeling creative? If you already have some mad graphic design skills, Metro Greek can let you put them to good use! Submit your own design to have it brought to life on any of our apparel brands and styles.
If you want to use a custom design idea but don't have the design chops, don't worry! We have a third option for you…
Option 3: Let Our Award-Winning Art Staff Design Your Shirt
Have a really cool idea but no design experience? That's A-OK! You can always contact us with a description of your idea and our award-winning artists will be happy to create a custom design for you.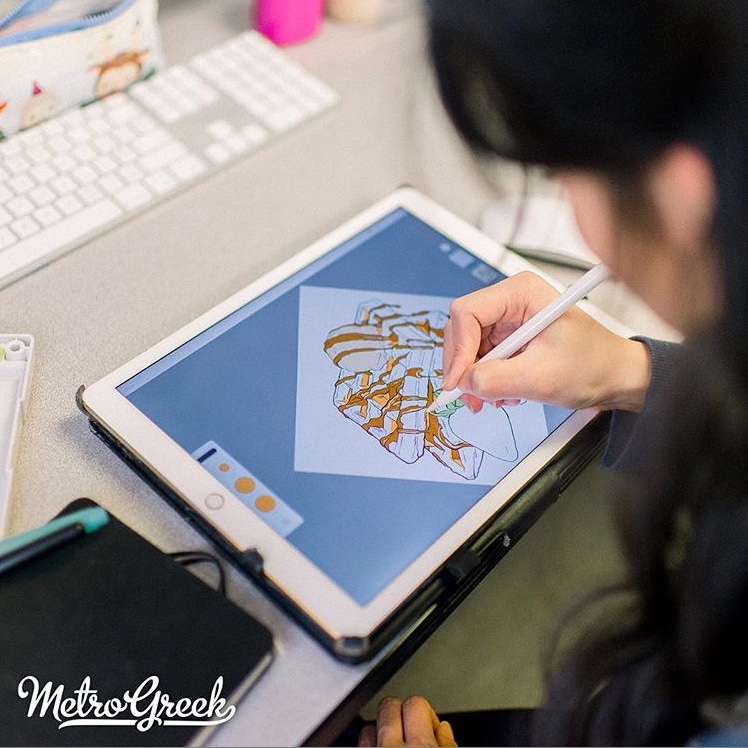 How to Place Your Order
Once you have your design and you're ready to place your order, send a proof request to us with your name, contact information, and organization name. After we receive it, we'll send a personal link via email to your proof before printing.
Not only does this link let you view your art proof, but it also provides:
The submission deadline for printing
Your order status
Size and color options
Price per garment
Shipping information
Submitted sizes and quantities from organization members
In addition to all of this information, you'll also find a shareable link at the bottom of the page. If you already know all the sizes you need, you can either place your entire order at once or share this link with your chapter so members can place their own orders. You'll be able to see who already placed an order at the bottom of the page. Be careful, though: once the submission deadline has passed, you can't add to your order anymore!
Once you're ready to pay, add your order to your cart and enter your billing information to check out. Remember that your order's shipping address will always be your organization's address, even if that's different from your billing address.
Have More Questions About Ordering Custom Greek Apparel?
Sometimes, it's as simple as 1-2-3! But in case you have a complicated order or unique situation, you can always reach out to Metro Greek with questions and concerns and our staff will be happy to help you. Visit our Frequently Asked Questions to see if we may have already answered your question!
Ready to Customize Your Chapter's Look?